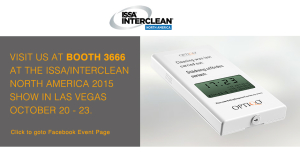 Optiqo Sweden AB will unveil their newest invention, the Optiqo Display V2, at ISSA/INTERCLEAN North America 2015.
Linköping, Sweden, October 9,2015 – Optiqo Sweden AB is going to be a part of the much-awaited ISSA/INTERCLEAN North America 2015 which will be held at Las Vegas Convention Center from October 21-23, 2015. Optiqo will showcase quality control hardware and software systems such as Optiqo System, Optiqo Inspect, Optiqo INSTA, and the new Optiqo Display V2. To learn more, Optiqo will be at Booth 3666 in the said event.
ISSA/INTERCLEAN is a prestigious trade show that gathers established and promising companies in the cleaning industry. Expect to meet more than 700 exhibitors and more than 16, 000 cleaning colleagues from all over the world. Martin Älenmark, Sales Manager at Optiqo, believes that "Las Vegas attracts, in general, visitors from all over the world. Arranging the ISSA fair here always attracts many potential co-operations."
The said event serves as an avenue to present new products/innovations and get to know about the latest industry trends. It also gives opportunity to do business with top industry players and a great way to increase one's network.
Better not miss Optiqo at booth 3666 and get to know more about their quality control systems. But why at Interclean? Älenmark says that they "…want[] to be a part of a strong cleaning market… Clean public spaces as well as a sense of what is necessary for creating attractive environments and experiences. Optiqo has the tools and products that can contribute to this feeling," and that his numerous trips to the US made him see the vanue as "a good market for our products and services," adding "We are continuously looking for partners and believe that we, at this fair, will find great co-operations."
Optiqo will also introduce the new Optiqo Display V2. This device will end paper checklists in the hygiene areas and care environments. It is an absolute paperless log-in and -out device that is easy to use and can accommodate an unlimited number of users.
The program is compatible with PC and Mac, is time zone supported, and the hardware is made of recycled plastic (oil-free). The custodian just needs to press the letter Q on the logo, place over his own RFID-enabled Service-ID on the display, and let the system update his entry. Optiqo Display V2 shows the latest entry plus the previous three records. It can send unlimited attendance logs via Wifi as well.
Optiqo has been a partner of several known companies such as Liv Hospital in Istanbul, Malmo Airport in Sweden, Istniye Park mall in Istanbul, and more. As Musa Yilmaz of ISS Facility Services in Turkey relays, "We decided to use Optiqo because the efficiency of the Optiqo app and the effective service inspections in our daily work." More importantly, it is a way of assuring customers that regular cleaning is in fact carried out.
Over the past years, Optiqo Sweden AB has been a service provider of quality control systems in the cleaning and facilities management (FM) sector. The line-up of their products include the Optiqo System, Optiqo INSTA, Optiqo Inspect, and Optiqo Display V2. For more details, click on this link or contact Martin Älenmark Försäljningschef at + 46 13 10 03.
Optiqo Sweden AB
Roxtorpsgatan 16B SE-582 73, Linköping Sweden
https://optiqo.wpengine.com/
info@optiqo.com
+46 13 13 10 03